When we asked PEOPLE.com readers to send in questions for Sharon Stone, many fans had one thing on their minds: Just how does the actress, now 48, manage to look so darn good and raise three kids–Roan, 6, Laird, 17 months, and Quinn, 5 months? "You look great and have your sanity," raved one reader, "so you must be doing something right." Stone, who is getting Oscar buzz for her turn as a hairdresser in the drama
Bobby
, spoke with People's J.D. Heyman and revealed all.
What's the secret to your eternal youth?
–
Olympia Wong, Sendai, Japan
To look good starts from the inside, so you need to be honest. Lying can make you look bad. I don't use caffeine, I very rarely have alcohol. I believe in (eating in) moderation. But I'm going to eat a croissant when I'm in Paris, because I think it's healthy to have fun.
Would you consider getting remarried?
–
Cole Woodson, Collegeville, Pa.
I don't know. I'm not big on marriage. But when I married before (to Phil Bronstein from 1998 to 2003; her first marriage to producer Michael Greenberg ended in 1987), the people I married were very big on marriage, supposedly. When I do something, I do it with a lot of determination. In the modern world, a lot of people get married like shampoo and a cream rinse. Like, let's get married and let's get divorced. And I can't relate to that.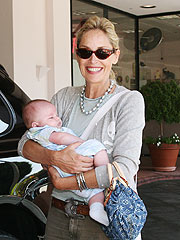 Are you planning on having more kids?
–
Tania Castillo, Torrance, Calif.
I think we're good. Three is a wonderful number. I can't say for sure, because you never know. Life is life.
Was there a lightbulb moment that got you involved in charity work?
–
Brenda Macon, Houston
I've been an activist for a really long time. I've been with the American Foundation for AIDS Research for 11 years, and before that I worked on causes like pediatric AIDS and the National Breast Cancer Foundation. The first time I made a substantial check, maybe
Total Recall
, I got very excited for a week or two. Then I thought, Okay, I'd better figure out what good I'm going to be doing here.
What inspires your style?
–
Zachary Davis, New Orleans
I get inspired by life and all things in it. I might get inspired by a Chinese maple tree one day or by a painting I saw in a museum or the way I saw someone else dress.
What's the worst red carpet outfit you've ever worn?
–
Sean Green Deer Park, N.Y.
You know, they all seem good when you're leaving the house. Frankly, the people that talk about your look–look at them! You're going, I know you're an expert, but I'm not so sure about that ensemble!