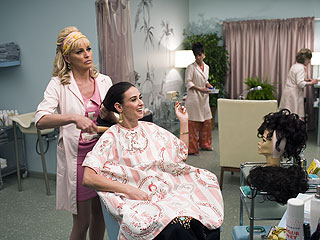 What is the greatest challenge you've encountered as a working mother?
–
Allison Serafin, Houston
Coming back from being sick (after a 2001 brain aneurysm) and then quickly having two more children. I had just gone through a divorce (in 2003 from newspaper editor Bronstein), and that's always rough. It's like you're the phoenix, trying to get up out of those ashes. (I turned a corner) just seeing my children love each other so much, laughing, hugging and kissing each other.
What would you wish for in the next five years?
–
Maria Mat, Thessaloniki, Greece
I would wish for health in (my) family because we've had a lot of health challenges. My dad had esophageal cancer, which he recovered from and we're very grateful about, and I had my situation (a brain aneurysm), and my sister is challenged with lupus. So, I just wish health for everybody. I think that's the most important thing.
Do you ever feel insecure about your looks, career or being a mother?
–
Julie Schiebner, Concord, Calif.
Every person has moments of insecurity, and everybody has someone around who'd like to help them feel insecure! Try not to hang out with them. Those are just the people who don't have enough to do.
What role challenged you most as an actress?
–
Penny Summers, Mebane, N.C
I would say my role in (the upcoming)
Alpha Dog
because I was playing a real woman, as I did in
Casino.
And these are the most complicated parts when you are playing a real person. I was playing a person who lost her son to gang violence. I spent time with her and she went through hell, and I wanted to put that on film. So that was certainly the most challenging thing I ever tried to accomplish.
What do you consider to be your biggest accomplishment?
–
Kristin Wilkie, Regina, Saskatchewan
I feel that my greatest accomplishment is self-acceptance and acceptance of others because, you know, you meet a few stinkers along the way. As we grow older we let go of the "should be" feeling and then we start to pay a little bit better attention about who we let into our lives. And I think we start to understand a little bit more thoughtfully that what is really attractive in life is kindness, consistency, empathy, integrity and honesty. These are the qualities worth hanging out for. But I think it takes time. And I'm not in a race.