Jennifer Garner – whose daughter with husband Ben Affleck, Violet, turned 1 on Friday – has only recently been working to get back to her pre-pregnancy action-star form.
"I'm in the worst shape
ever,
" the size 6-8 ("definitely more an 8") actress, 34, tells
Elle
magazine in its January issue. "My trainer just shakes her head and says, 'This is a disaster.' "
Though she kicked butt as the star of
Alias
and
Elektra,
these days, she says, "I am as physically unfit as I've probably been in my whole life. It's such a horror in front of the mirror with no clothes on."
Lifting her sweater to reveal her midriff, she says, "You still have that little bit of extra skin, know what I mean? But still, it's enough for people to think that you're knocked up."
She adds: "No, everyone calm down.
Nobody's pregnant
" – although
Affleck recently told Ellen DeGeneres
he would love to have more kids.
For now, Garner has her hands full with one baby. Violet "is saying 'ee-i-ee-i-o' – and 'mama!' " boasts Garner, who says having a baby didn't wreak havoc in her marriage.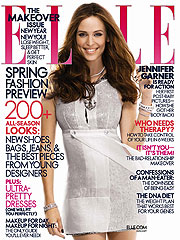 "Maybe it's because we were newlyweds," she says. "I think it's just that (Ben) is also a very understanding individual. A compassionate, generous guy. He's great with (Violet) and she loves him, which makes it a lot easier on me."
Though her new movie,
Catch and Release,
is due in January, she says she spends most of her days at home with her daughter. "My husband is superinvolved and very present," she says, "so I don't have that feeling of wandering around the house bumping into things."