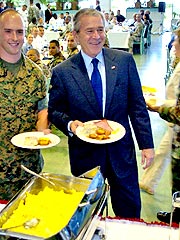 BRUCE ASATO / Honolulu Advertiser / AP
Nancy Pelosi shattered Congress's glass ceiling by becoming the first female Speaker of the House. Do you think there's anything a woman would do differently with the Presidency? THE PRESIDENT:
I think it depends on the individual, but there's no doubt in my mind a woman could do the job.
Mrs. Bush:
I agree. But it isn't easy to live here. Dr. (Condoleezza) Rice, who I think would be a really good candidate, is not interested. Probably because she is single, her parents are no longer living, she's an only child. You need a very supportive family and supportive friends to have this job.
The White House family had some happy news this week: Mary Cheney, the Vice President's daughter, is pregnant. THE PRESIDENT:
The Vice President took me aside and gave me the good news. He and his wife, Lynne, are very happy for Mary.
You said in 2005 that ideally "a child is raised in a married family with a man and a woman." Knowing Mary and her partner, Heather, do you still think that? THE PRESIDENT:
I think Mary is going to be a loving soul to her child. And I'm happy for her.
Many readers asked how you handle stress. THE PRESIDENT:
I pray daily. I exercise nearly daily, and I've got a loving wife who provides a comfortable, warm place for me to come home to.
Mrs. Bush, how do you feel when you hear some of what's said about your husband? Are there moments that sting? Mrs. Bush:
Sure, yes. I don't like that. But we've been involved (in politics) for years.
Is it worse today than in the past? Mrs. Bush:
When you go to the Lincoln Library in Springfield, Ill., and see what political cartoons and pamphlets said about President Lincoln, you see that it's not worse. People are the same no matter what generation.
A lot of readers asked how you shut off the day's events. Do you ever take sleep aids? THE PRESIDENT:
Generally not. But occasionally when I travel, I'm expected to get on an airplane and fly eight hours and pop out and be fresh and diplomatic and on message. If I'm having trouble sleeping, I'll take a sleep aid. But I must tell you, I'm sleeping a lot better than people would assume.
Do you ever need anything more than a cup of coffee to stay sharp?
THE PRESIDENT:
I have a couple of cups in the morning, and drink a lot of water. Hydrating helps. There are ways to maintain your health, and one is exercise. I believe prayer is very important; others don't, but I do. I don't drink alcohol. I can remember when I used to drink, I had trouble sleeping at night.
Favorite book of the year?
THE PRESIDENT:
Team of Rivals,
about Abe Lincoln, by Doris Kearns Goodwin.