As 2006 comes to an end, the stars gave PEOPLE their picks for the year's best books, movies, music and TV shows:
TV SHOWS
Ashlee Simpson
:
Desperate Housewives
– "It's one of those shows like
Sex and the City
– every girl likes it."
Monique Coleman
:
Grey's Anatomy
– "Even though there's huge issues, at the end of the day we're still concerned about the characters – that's good TV."
Macy Gray
:
Nip/Tuck
– "It's over-the-top- drama. It's crazy. I don't know who thinks of that stuff."
John Stamos:
South Park
– "The show is so timely. If something happens, in like two weeks it's parodied on there."
Nicky Hilton:
The Girls Next Door
– "I just think they're so funny."
MOVIES
Josh Groban
:
The Prestige
– "Christian Bale and Hugh Jackman are awesome. And I've loved magic since I was a kid. That it's a murder mystery with twists based on magic makes it amazing."
Jaime Pressly
:
The Departed
– "It was amazing. It's a brilliant film. Everyone in it was great."
Anjelica Huston
:
Borat
– "I don't know if it's the best movie, but it's the funniest. I have never laughed so hard in a movie. I've never laughed so hard, period."
Mike Myers
:
The Fountain
– "It's beautiful. I've never seen anything like it. All the performances were great. It was transformative."
Clay Aiken
:
The Queen
– "Helen Mirren looks just like Queen Elizabeth. Acted like her! I thought it was very good."
MUSIC
Anne Hathaway
: Jenny Lewis with the Watson Twins,
Rabbit Fur Coat
– "You can just listen to it start to finish and it tells a story. It's beautiful, funny and very subversive. I really love it."
Chris Cornell
: Bob Dylan,
Modern Times
– "I think it's fantastic. There's a lightness to it that doesn't normally come from him. When I say lightness, like a happiness."
Zach Braff
: Joshua Radin,
We Were Here
– "It's just the greatest music. He's a really talented guy. He's like the new Paul Simon."
Katharine McPhee
: Christina Aguilera,
Back to Basics
– "I really like her record. I think she brought some cool old-school stuff to it, and amazing vocals."
BOOKS
Terrence Howard
:
Veronika Decides to Die
by Paulo Coelho –"It teaches you to enjoy each moment."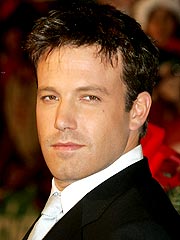 Fred Prouser / Reuters / Landov
Ben Affleck
:
Guns, Germs and Steel
by Jared Diamond – "I'm reading a lot of nonfiction. . . .This is really good right now."
Jennifer Connelly
:
In the Land of Magic Soldiers
by Daniel Bergner – "That was the last one I read – it was actually about Sierra Leone, where
Blood Diamond
takes place. It was really fantastic."
Queen Latifah
:
The No. 1 Ladies' Detective Agency
by Alexander McCall Smith – "I love it. It's a whole series."
Patricia Heaton
:
The Tiny One
by Eliza Minot – "It's about a girl who loses her mother, and she chronicles the whole day before she finds out her mother died. She's exactly the age I was when my mother died. I'd read a few pages and then start sobbing."