When we asked PEOPLE.com readers to send in questions for Cameron Diaz, who stars in the romantic comedy
The Holiday
, you weren't shy. Will she have kids? What is up with the new brunette hair? What does her longtime boyfriend Justin Timberlake think about it? And with her multi-culti background (Cuban on her father's side; Native American on her mom's), how does she celebrate her real-life holidays? Diaz, 34, replied by e-mail.
How do you like your new hair? How does Justin react to it?
–
Nikkie Schmidt, Butler, Pa.
I love it. I've had dark hair before and I changed my hair color because, in my mind's eye, I feel like a brunette. It just seemed like a good time to make the change. It's funny, because my family and friends all feel the same way ... they prefer me as a brunette.
With your diverse heritage, what are your family holiday traditions?
–
Liza Salazar, Hammond, Ind.
Christmas is all about being with my family and friends, and one of our holiday traditions is a huge Cuban meal. We all cook together and stuff our faces until we can't eat another bite. Our traditional Christmas dinner is a pork roast, roasted chicken, black beans and rice and an avocado salad – all Cuban style – delicious!
Please tell us! What's it like kissing Jude Law?
–
Meaghan Fitzpatrick, Wilmington, Del.
Our job is so weird. Something like that is always awkward, but you just approach it like any other scene. We're storytellers, and
The Holiday
was about these people falling in love with each other. Jude is such a professional and such a lovely guy – I was really lucky to have him as my partner every day on the movie.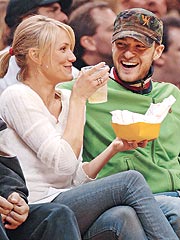 If you could switch places with anyone for the holidays, whose life would you want to live temporarily?
–
Carrie Spielbauer, Appleton, Wis.
I'm lucky because I get to take over other people's lives for my job. But if I had to choose it would be
Borat'
s Sacha Baron Cohen. I'd love to see the world through that dude's eyes.
What is your favorite thing to do on a Saturday night?
–
Erin Lubash, Yarmouth Port, Mass.
My favorite nights always involve food. I love to cook and to feed people. And lots of laughter! When I'm cooking for a big group of people, pasta is usually my friend. It's easy to make a lot – and who doesn't love pasta?