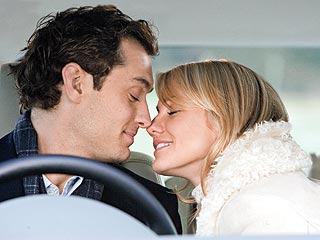 SIMON MEIN / COLUMBIA PICTURES
You are one of Hollywood's biggest celebs, but you seem to manage to stay so down to earth. How?
–
Jessica Jones, Denver, Colo.
My family keeps me very grounded. Certainly fame makes you change how you move through the world, but ultimately I think you are who you are. I have very simple needs. My biggest splurge is travel. I'm so lucky just to be able to pick up and go all over the world. It doesn't have to be extravagant. I'm just as happy in the wilderness with no electricity as I am in a five-star hotel room with room service.
Is parenthood something you'd eventually like?
–
Jenny Bowe, Minneapolis, Minn.
Family is very important to me in every sense. I definitely hope to have that gift in my life one day.
If not acting, what is something that you would love to master?
–
Tracy Oganyan, Glendale, Calif.
I'd love to master being on time. I was born 15 minutes late and have been trying to catch up for 34 years. At least I'm consistent.
Where is your favorite holiday vacation spot?
–
Justine Hark, Oceanside, Calif.
It doesn't matter where I am, as long as I'm with family and friends. (But) I love Hawaii. To me, it's truly paradise. It's very calming to be out in the middle of the ocean surrounded by water.
When you are not filming, what is a typical day like for you?
–
Amy Dowden, Greenville, S.C.
I'm in constant motion. I travel a lot, so it's hard for me to have much of a set routine. I like it that way because I enjoy figuring out how to make things work and being spontaneous. When I'm filming, my focus is on my work. But when I'm not working and I'm at home, I just fill the days with typical errands – catching up with friends and family (and) taking care of business. I also work out, and every day that I'm at home, I cook breakfast. I never skip breakfast, no matter what. It's the most important meal of the day, and it's my favorite to cook. I like creating new dishes that aren't typical breakfast dishes. I like a good, hearty, "get you through the first half of the day" kind of meal. Breakfast is the one constant in my day-to-day routine.
What is the most precious gift that you ever gave?
–
Shavelle Christian, Kansas City, Mo.
I think loyalty is the greatest gift anyone can give. That means a lot to me.