At 44, Demi Moore has three teenage daughters, a much-younger husband and a thriving comeback career – so you'd think she has her hands full. But she wants more kids.
"Most definitely," she tells
Vanity Fair
when asked whether she wants children with Ashton Kutcher, 28.
Moore, who has three daughters with ex-husband Bruce Willis – Rumer, 18, Scout, 15, and Tallulah, 12 – adds, "Once you hit three, where you're outnumbered, it's really like, 'What's the difference between (three or) four or five?' For me, the most important thing that I've contributed is my children."
Of course, being a mom to teens can be a handful, especially when your oldest daughter starts
hanging out with Lindsay Lohan
.
"I'm definitely a bit overprotective, maybe because I have girls," Moore says. "When they go out, I have them check in continually the entire night. ... The fact that they are happy to check in and let me know how they are and where they are, that they don't see it as a drag, is a real gift."
Moore says Kutcher, whom she
wed in September 2005
, is a partner in parenting, despite their age difference. "At the risk of sounding really cliché, he's really an old soul."
Of their romance, she says, "I think it caught us both by surprise. ... If somebody would have said, 'OK, here is the prediction: You're going to meet a man 25 years old and he's going to see being with you and having your three kids as a bonus,' I would have said, 'Keep dreaming.' "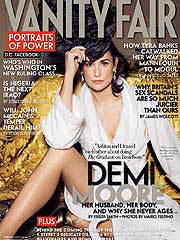 Of course, it doesn't hurt that Moore, who has two films,
Mr. Brooks
and
Flawless,
due this year, still has the body of a very fit 25-year-old.
"Here's the amazing thing," she says. "When I stepped away (from Hollywood), which was on the heels of
G.I. Jane,
I'd been on a long physical run of absolutely manipulating and forcing my body. ... I thought, I just have to stop. I actually stopped exercising and started to eat in a way that was very reasonable. And the amazing thing is, my body transformed closer to what I always hoped for."
Another thing she learned during her time off: "Being thin does not equate to happiness."