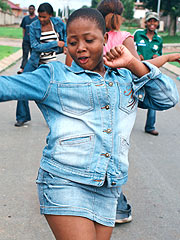 The talk show host herself was beaming at the ribbon-cutting ceremony. Wearing a pale pink gown and a bright smile, she gathered her girls around her as she officially opened the school along with her longtime partner Stedman Graham, 55, plus celebrity friends including Tina Turner, Chris Rock, Mary J. Blige and Mariah Carey, each of whom donated a personally inscribed book to the school's library. "I understand what it means to grow up poor, to grow up feeling you are not loved," Winfrey told the crowd, referring to her childhood in Mississippi, where she lived – without running water or electricity – with her grandmother. "I wanted to be able to give back to people who were like I was when I was growing up."
Back in the U.S., Oprah faced a smattering of criticism: Why was she sending so much money overseas when plenty of U.S. schools could use the support? In an interview with
Newsweek,
Winfrey addressed that issue. "I became so frustrated with visiting inner-city schools [in the U.S.]," she said. "The sense that you need to learn just isn't there. [In America] if you ask the kids what they want or need, they will say an iPod or some sneakers. In South Africa they don't ask for money or toys. They ask for uniforms so they can go to school."