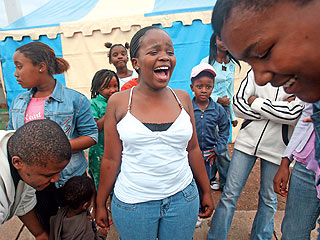 The idea for the Leadership Academy in South Africa was born in 2000. When Winfrey asked former president Nelson Mandela what gift she could give the country, he replied, "Build me a school." Set on 52 acres in quaint Henley-on-Klip (roughly 20 miles south of Johannesburg), the private school is far different from the public schools in the country's townships, where many students drop out and only 5 percent qualify for university. Within the school's 28 buildings: computer and science laboratories, as well as a beauty salon and a 600-seat auditorium where Winfrey will check in on the girls and teach classes via video conference. The school's interim principal is Joan Countryman, 66, a veteran American educator who recently retired from heading the esteemed Lincoln School for girls in Providence, R.I. The school's teaching staff is South African.
The 152 students were chosen from among more than 5,500 applicants. Oprah interviewed the finalists, hearing firsthand about the girls' heartbreaking backgrounds and ambitious dreams. One of the students, Lebohang Hiine, 13, lost her mother to AIDS last January. Winfrey asked the girl what career path she would choose. "I said I want to be a pilot," recalls Lebohang. "When I watched movies, I saw whites being pilots – I thought that it was time that blacks stood up."
After learning so much about them, Winfrey now thinks of the students as family. "I now know this is why I never had children myself," she said at the inauguration. "These are my girls, and I love them, every one of them." Winfrey's next educational endeavor will be a coed school in the eastern province of Kwa-Zulu Natal. But for now she's enjoying the moment. And her girls. "This is the proudest, greatest day of my life," she said, shedding a tear as the school's flag was raised. "When you educate a girl, you educate a family, a community – you change the face of a nation."
• By Jennifer Wulff and Mike Lipton. Stephanie Hanes in Soweto and Henley-on-Klip, Steve Barnes in Little Rock and Lauren Comander and Hilary Shenfeld in Chicago