John Cusack is speaking out about longtime pal Jeremy Piven, who hints in a new magazine article that his recent success on HBO's
Entourage
ruined their friendship.
Asked how Cusack handled his success, Piven tells the February issue of
Best Life
magazine, "No comment. I mean, you could fill in the blank, I bet."
However, Cusack says in a statement to PEOPLE: "It's quite the contrary. I am very happy for Jeremy. I wish him the best and I always have."
Cusack studied acting at Chicago's Piven Theatre Workshop, which was run by Piven's parents, according to the magazine. And Piven, 41, played wingman to Cusack, 40, in films including
Say Anything, Grosse Pointe Blank
and
Runaway Jury
– until he landed the part of Ari Gold on HBO's
Entourage,
for which he won an Emmy last year.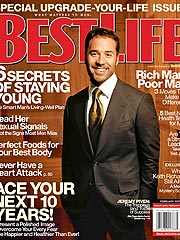 Elsewhere in the article (on newsstands Friday), Piven says, "It just says so much about a person if he has space for other people's success. I have always been so proud of my friends' success. ... You start getting into trouble in life when you start comparing and contrasting your life to anyone else's. You don't win when you do that."