The granddaddy of all reality shows,
Survivor,
is back for a 14th season – this time with a connection to another hit reality program,
Project Runway.
Rita Verreos, 38, a former professional ballerina and the older sister of
Project Runway
veteran and fashion designer Nick Verreos, has joined
Survivor: Fiji
's band of castaways.
"I only purchased cable TV when my brother was on a reality show," Rita, a part-time image consultant and full-time single mom, tells PEOPLE.
Before
Survivor
began filming at the end of October 2006, Rita and Nick had a talk about "reality" life. "I have not asked for advice," says Rita, "but he has told me to just be myself. He said the aftermath of the attention could be overwhelming. But a few years ago, I was in the Miss Venezuela pageant, so actually, I gave him the same advice before
Project Runway
!"
Rita says she hopes fans will make a positive correlation between her and Nick. "Maybe the Verreoses can be like the Osbournes," she jokes, "or people will want the Rita and Nick Show!"
As for the show, this time around, the theme is Haves vs. Have Nots. The new series will begin with all of the contestants in a single tribe. All 19 adventurers are dropped off on an island near a natural cave and given supplies to make for a deluxe camp. But by the third day the group will be split into two and the tribe that wins the first immunity challenge will stay in relative luxury, while the losing tribe will be forced to move to a new island with only a pot, machete and a water source.
Elements of the last two seasons – Exile Island and a hidden immunity idol – will return but with a twist. This time, the person sent to Exile Island will look for clues to where an immunity idol is hidden somewhere at each tribe camp. This means there could be the tantalizing possibility of two hidden immunity idols being in play at the same time.
As for the figure of 19 participants instead of 20, one potential castaway cast herself off the show before it began. Melissa McNulty, a 28-year-old talent manager from Los Angeles, had been flown to Fiji before she decided to bow out of the game. Producers decided not to bring in an alternate and so the series continues with 19 castaways.
Survivor: Fiji
premieres on CBS on Feb. 8.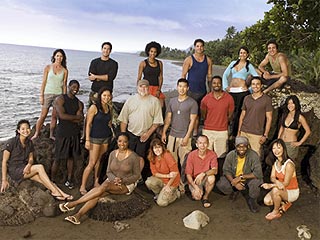 Complete List of Castaways on Survivor: Fiji
ALEX ANGARITA, 28
Los Angeles, Calif. (originally from Columbia, South America)
Attorney
KENWARD "BOO" BERNIS, 34
Lafayette, Louisiana
Construction Worker
YAU-MAN CHAN, 54
Martinez, Calif. (born in Hong Kong, raised in Borneo, Malaysia) Computer Engineer
EARL COLE, 35
Santa Monica, Calif. (originally from Kansas City, Kansas)
Advertising Executive
JESSICA deBEN, 27
Los Angeles, Calif. (originally from New Orleans)
Fashion Stylist
ERICA DUROUSSEAU, 27
Lake Charles, Louisiana Non-Profit Fundraiser
CASSANDRA FRANKLIN, 42
Los Angeles, Calif.
Civil Engineer Manager
LILIANA GOMEZ, 25
Oxnard, Calif.
Loan Officer
ANDRIA "DRE" HERD, 25
Wilmington, N. Carolina
Cheerleading Coach
STACY KIMBALL, 27
Boulder, Colorado (originally from Montpelier, VT)
Interactive Internet Producer
SYLVIA KWAN, 52
Ross, Calif. (born in Hong Kong)
Architect
MOOKIE LEE, 25
Wheeling, Illinois (born in Seoul, Korea
Loan Manager
LISETTE "LISI" LINARES, 36
Los Angeles, Calif. (originally from Miami)
Customer Service Representative
JAMES REID, 28
Los Angeles, Calif. (originally from Boston)
Bartender
EDGARDO RIVERA, 28
Miami Beach, Florida (originally from Puerto Rico)
Advertising Executive
ANTHONY ROBINSON, 32
Compton, Calif.
Expert Witness Locator
GARY STRITESKY, 55
Ramsey, Minn.
School Bus Driver
RITA VERREOS, 38
San Antonio, Texas (originally from Venezuela)
Single Mom
MICHELLE YI, 23
Cincinnatti, Ohio
Student