•
Jennifer Garner
and daughter Violet, stepping out together in Santa Monica, where they made several stops.
• Later that night:
Ben Affleck,
chatting for almost an hour with
Sacha Baron Cohen
at the
Smokin' Aces
premiere afterparty at the Hollywood Roosevelt Hotel's Blossom Room. They traded pats on the arm and whispered in each other's ears while a
Common, Talib Kweli
and
Kanye West
surprised the crowd with a six-song live performance. Also making the scene:
Alicia Keys, Ryan Reynolds
and
Jason Bateman,
who costar with Affleck in the movie, and
Chris Rock.
•
Jessica
and
Ashlee Simpson,
shopping at Barneys New York in Beverly Hills. "Ashlee was flipping through the dress rack," says a shopper. "Jessica was playing fashion designer, helping her sister find the perfect dress." Also browsing separately in the store:
Maggie Gyllenhaal,
who was looking at a pink shirt with a butterfly emblazoned on it.
•
Taye Diggs,
hanging out a table with a large group of people at Teddy's lounge at the Hollywood Roosevelt. At one point, he chatted and danced with actress
Leelee Sobieski.
The Hills
star
Lauren Conrad
also chilled with pals as
Brody Jenner
sat at a nearby table.
•
Mary-Kate
and
Ashley Olsen,
purchasing big bags of gummy bears, trail mix and gum before boarding an international flight at Los Angeles International Airport. The sisters – wearing heavy coats, scarves and their signature oversized sunglasses – then walked into United Airlines' first-class lounge area. "They both reeked of cigarette smoke," says an observer.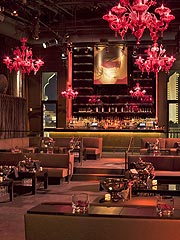 •
Sharon Stone,
holding court with several female pals at a VIP table at West Hollywood club Area. Though they didn't interact,
Bruce Willis
was also there with his posse of pals as was
Derek Jeter
and
Steve O.
•
Justin Timberlake,
playing blackjack in the high-rollers lounge at the Mirage Hotel in Las Vegas and then heading to Hard Rock Hotel's Nobu for sushi with friends. That same night
Kevin Federline
went to the Tao nightclub, where he drank very little and hardly paid attention to the women at his table. Read more about the
boys' night out
for
Britney Spears's
exes in Vegas.
• By MARK GRAY, KIMBERLY LANSING, DANIEL VARGAS and NICHOLAS WHITE
See Thursday's Caught in the Act >