When FBI agents set out in search of Ben Ownby, a 13-year-old Beaufort, Mo., boy kidnapped on Jan. 8, they were hoping to find him alive. They never expected to find not just Ownby, but Shawn Hornbeck, 15, who'd been missing since 2002.
On Jan. 12, federal agents – acting on a tip from one of Ben's schoolmates, who reported seeing a white truck near Ben's home the day he disappeared – raided a ground-floor apartment in Kirkwood, a St. Louis suburb, and found both Ben and Shawn inside. They also arrested their apparent abductor, Michael Devlin, 41, at the Kirkwood pizza parlor where he worked as a manager.
On Thursday, Devlin – an imposing figure at 6'4" and 300 lbs. – pleaded not guilty to kidnapping charges from the Franklin County jail where he is being held.
The rescues of the two boys were miraculous – but they also raised perplexing questions. How did Devlin, who passed Shawn off as his son and allowed him to take frequent unsupervised trips, manage to keep him in his custody for so long? And why didn't Shawn take advantage of his many encounters with people and announce himself to be the boy on the missing posters still up in the area?
It was on a Sunday afternoon in October 2002 that 11-year-old Shawn hopped on his lime-green mountain bike and rode off to visit a friend. He never got there. Shawn's stepfather Craig quit his job as VP of a technology firm and, with Shawn's mother, Pam, set up a foundation, enlisted 1,600 volunteers and appeared on the
Montel Williams Show.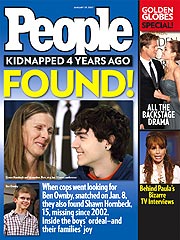 "Craig put 100 percent of his time into looking for Shawn," says family friend Chris Diamond. "They never let up."
For all that time, it now appears, Shawn was 50 miles away, hidden in plain sight. His alleged captor, Devlin, worked at Imo's Pizza for more than 20 years. "He was a gentle guy, completely under the radar," says Imo's owner Mike Prosperi.
His neighbors, though, say Devlin had a nasty temper. "Everyone had a conflict with him," says Krista Jones, who lived across from him. "I just thought he was a weirdo."