Just weeks after her ex-boyfriend, Zach Braff, admitted
suffering from mild depression
, Mandy Moore has revealed she also struggles with the blues.
"A few months ago I felt really low, really sad – depressed for no reason," the singer and actress tells
Jane
magazine in its February issue. "I'm a very positive person, and I've always been glass-half-full. So it was like someone flipped a switch in me."
Moore, 22, and Braff, 31, split last year. Moore says the separation did not trigger her depression, but may have exacerbated it. "The breakup added to what I was going through, but it's not the complete reason," she says. "It definitely doesn't help if you're already in that place."
Moore does not speculate on what else might have caused her depression, but says it prompted some serious introspection.
"I've been going through this really crazy time in my life," she tells
Jane.
"I'm asking myself life-altering questions, like 'Who am I? Where do I fit in this world? What am I doing? What do I want to do? Am I living to my full potential?' "
Professionally, Moore has been working on new songs – spending lots of time at the remote Allaire Studios in Woodstock, N.Y., which has suited her ruminative mood. "Writing has been really therapeutic," she says. "These little nuggets that have come up over the past eight months have made me look at things in a different way."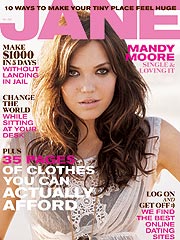 But one thing that doesn't appear to have changed is her outlook on relationships. Moore, who enjoyed lengthy romances with actor Wilmer Valderrama and tennis player Andy Roddick before Braff, says she is still uncomfortable with the whole dating scene – though she has been
recently linked
to Adam "DJ A.M." Goldstein.
"I've tried dating a bit, and I don't like it," she says. "I know I should be putting myself out there. But I don't really think it's for me. That's not to say I'm ready to jump back into a relationship anytime soon. I'm definitely not looking. But it'd be fun to have a crush."