• "Every time Randy Jackson opens his mouth, I look like a Nobel Prize winner. Every time Simon opens up his mouth, Borat sounds like a Nobel Prize winner … Ryan, I really do love him. Almost as much as he loves himself. These three brothers are the best thing to ever happen to me. Just ask my therapists."
–
Paula Abdul,
accepting the Woman of the Year award
from the Nevada Ballet Theatre
• "I listen to most new music released every week."
–
John Mayer,
when
asked by an aspiring writer
on the MTV reality show
I'm From Rolling Stone
if he has "ever purchased a Jessica Simpson album"
• "I do have boobs, which is fun. I've never had boobs!"
–
Pregnant
Boston Legal
actress
Julie Bowen,
extolling the virtues of her newfound cleavage on the SAG Awards red carpet
• "There's a nub where the genitals should be. He has no mouth. I actually posed for this several years ago – I was the buttocks model for the SAG (Awards) Actor. It's like looking in a mirror."
–
The Office
's
Rainn Wilson,
joking about his uncanny resemblance to his SAG Awards trophy
• "It's about those 10 cast members sitting over there and the other one in rehab. Y'all just hold me together."
–
Chandra Wilson,
giving a shout-out to Isaiah Washington while
accepting a SAG Award
for her
Grey's Anatomy
role
• "I'm a completely different person out of rehab. Before I entered rehab I hardly knew who I was. I felt like I was floating and I just needed someone to pull me down."
– Miss USA
Tara Conner,
on her
new outlook
after completing a 31-day rehab program for alcohol addiction, to PEOPLE
• "When we're together and she's in her heels, I always feel like Tom Cruise next to Nicole Kidman."
– Oscar host
Ellen DeGeneres,
about
walking the red carpet
with girlfriend Portia de Rossi, to
The Advocate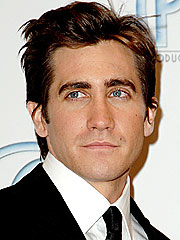 • "I've noticed in life that the mother, first, has a primary job – and as a father, your job is to pick a caring, smart, mindful woman."
–
Jake Gyllenhaal,
on his selection process for finding the
right woman,
to
GQ
• "I worked with Pam seven years ago and haven't seen her since. And I've never been to that restaurant."
–
George Clooney,
in a statement
addressing rumors
that he went out on a date with Pam Anderson