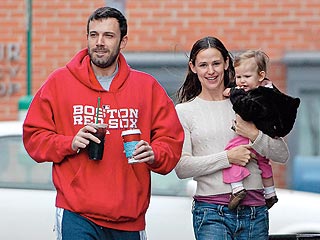 How have you managed to keep in shape after the show (Alias) and after giving birth to your first child?
–
Heather Dee, Seattle
I wasn't that into getting back into shape; I was so all about being with my baby. (Then) I started missing the energy you get from being in shape. I resented my friends who said it melted off. It did
not
melt off! I had to get on the treadmill and do weights and Pilates – and stop eating yummy things. It was a pain. It was not a magic formula.
How much does your West Virginia upbringing influence the way you are raising your daughter?
–
Kirstin Osgood-Harrison, Wichita Falls, Texas
You know the whole it-takes-a-village thing? A village raised the kids in our community, whether it was the ballet teacher or our friends' moms or church. It was a loving place to grow up. Hopefully I'll create that for my daughter.
Would you ever consider moving back to West Virginia?
–
Chasiti Flint, Wayne, West Va.
Oh, hello, Chasiti from Wayne! I do think about moving back. It's hard to do my job from West Virginia; it's a hard place to get into and get out of, which is one of the things I love about it. But it makes it hard to imagine that being home base. Maybe someday. I wouldn't be surprised – I love it.
In your new movie your character deals with painful moments. During times of hardship in your life, what has kept you going?
–
Lisa Bendzak, Clifton, N.J.
My friends always step up to the plate. You have to find a way to laugh.
What is the absolute necessity for you when it comes to comfort food?
–
Madhu Vasudevan, Kuala Lumpur, Malaysia
I have a lot of comfort-food necessities. Chocolate is probably No. 1. Not a day goes by that I don't have a little bite, but I try to make it something really rich so I'm not tempted to keep going. I had a bite of a chocolate muffin this morning and will have another bite after lunch. Then I like cheese, crackers and wine with my girlfriends. Cheese is something I've never had luck giving up when trying to diet.
Do you think there's any hope of an Alias movie?
–
Tina Manco, Centerville, Ohio
I don't think so. I haven't heard anything about it. You guys would have to go crazy and demand it!