Ellen DeGeneres says she's been happy in relationships before – but not the kind of happy that she feels with Portia de Rossi.
DeGeneres, who is set to
host the Academy Awards
on Feb. 25, tells
The Advocate
in its new issue that she's reached a different level of contentment with her actress girlfriend of two years.
"I could say the same thing I've said in every relationship: 'I'm happy.' But there's happiness and there's love, and then there's completion," the Emmy-winning talk-show host says. "It doesn't take away from any of the relationships that I've had, 'cause I've had amazing relationships. ... But I feel like I found my perfect fit."
DeGeneres, who turned 49 Friday, and de Rossi, who will be 34 on Wednesday, began
dating
in late 2004.
One key to their happiness, says DeGeneres, is that they learn things from each other. "She's taught me lessons about myself, and I feel like I've taught her," says DeGeneres. "We've both changed and grown, and we just feel like, 'Oh, OK, this is completion.' "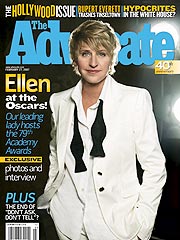 In September 2005, de Rossi told
The Advocate
that her relationship with DeGeneres was "very loving, peaceful," adding, "I really feel not alone for the first time in my life."
In the new interview, DeGeneres also reveals how jazzed she is to be hosting the Academy Awards. "There's a nervousness, but there's also an excitement," she says. "You want to do your best, naturally, but it's also just letting it happen once you're out there."
The hosting gig means she won't get to walk the red carpet with de Rossi. But actually, that's okay, says DeGeneres: "When we're together and she's in her heels, I always feel like Tom Cruise next to Nicole Kidman."