•
Jessica Biel,
walking her dog, Tina, while chatting away on her cell phone during the walk through Brentwood, Calif. on Thursday morning. And she came prepared for clean-up duty – carrying a trash bag to pick up after her pooch.
•
Jennifer Aniston,
dining with friends Thursday at West Hollywood eatery A.O.C. "Jennifer seemed really happy – happy and content," a fellow diner tells us. At one point, Aniston, in jeans and a black top, approached
Six Feet Under
actress
Patricia Clarkson
at her table and raved about how much she loved her work.
•
Ryan Phillippe,
holding court until 1 a.m. with six male friends and three female friends at Winston's in West Hollywood. The group sipped Grey Goose vodka while carafes of cranberry juice and orange juice sat on their table. "(Ryan) was playing bartender, pouring drinks for all his friends while he was moving his body to (My Chemical Romance's) 'Welcome to the Black Parade.'"
•
American Idol
judge
Paula Abdul,
feasting with two girlfriends at Los Angeles restaurant Table 8. The three nibbled on New Zealand lamb with porcini mushroom risotto and roasted Sungold tomatoes. "They were having a really good time," an observer tells us. "Paula did most of the talking, as her two girlfriends did lots of listening."
•
New daddy
Sean 'Diddy' Combs,
holding down the party in a corner table – right by the DJ booth – at South Beach lounge Mokai during a pre-Super Bowl bash. Also spotted partying:
Taye Diggs,
hanging out with friends, tennis star
Andy Roddick
(with a brunette) and
Tom Brady.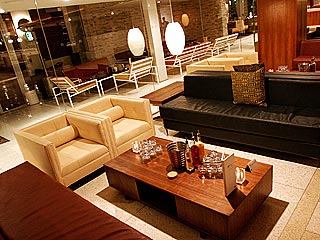 •
Lauren Conrad,
toasting her 21st birthday with her posse, including best friend
Heidi Montag
, at Hollywood hotspot Area. On the table:
a circular pink and white cake and champagne.
"She loved the cake, finishing an entire piece," an observer tells us. Later in the evening, Conrad stood on the couch and danced to "On the Hotline" by Pretty Ricky and Cyndi Lauper's "She Bop."
• By JON WARECH and LIZZ LEONARD
See Thursday's Caught in the Act! >