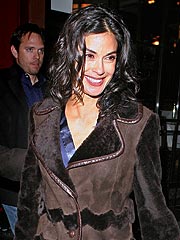 •
Teri Hatcher,
wearing a funky full-length coat while out in Los Angeles.
•
Nicole Kidman
and husband
Keith Urban,
whispering and cuddling during dinner at West Hollywood's Sushi Roku. The couple shared seaweed salad with ginger vinaigrette and spicy tuna roll with avocado. And the actress was totally focused on her man, who's been
out of rehab
since earlier this month. "Nicole rested her hand on Keith's thigh for much of the meal," a patron tells us.
•
Seal,
having a "deep conversation" with a male friend at the concession stand of the ArcLight Cinemas in Hollywood.
•
Duane "The Rock" Johnson,
climbing onto an elliptical machine at Gold's Gym in Venice, Calif. After a 10-minute warm-up, The Rock – wearing a green jacket and black shorts – moved on to pump weights with fellow muscle-bound men (and women).
•
Hilary Duff,
dining with three female pals at Vincenti Ristorante in Brentwood, Calif. On the table: risotto with beets, lobster, calamari and roasted bell peppers. "They were giggling, having a fun night," an observer tells us.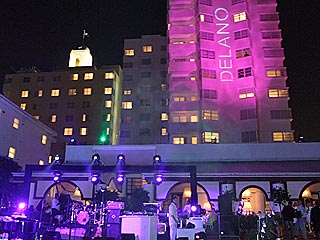 Alexander Tamargo / Getty
•
Kevin Federline,
moving his
ongoing party
down to Miami. The rapper got a late start at 1 a.m. on Tuesday, hitting the Delano Hotel with a brunette lady friend and his bodyguard. Then he made the rounds to hipster lounge Mokai, a special event at club Rain and then on to Prive, where he danced on the bar and sipped Jack Daniels and Coca-Cola. He even joked with a fellow patron about his
controversial
Nationwide Insurance ad.
• By ALEXIS CHIU and JON WARECH
See Tuesday's Caught in the Act! >