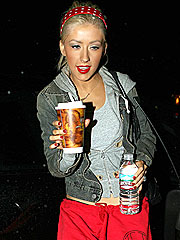 •
Christina Aguilera,
staying hydrated – a hot beverage in one hand, water bottle in the other – en route to a dance rehearsal with The Pussycat Dolls in Hollywood.
•
Leonardo DiCaprio,
chilling with a group friends including actor
Lukas Haas
at the patio of West Hollywood club Area. The
Oscar nominee
sat on top of a banquette while security ushered past a constant stream of ladies hoping to catch the actor's eye. "There were some girls sitting on the couch he was on, but his back was to them," says a source. "He talked with his boys all night and smoked."
•
Coco Arquette,
dancing along the sidelines as the L.A. Laker Girls hit the floor, showing off her own moves to dad
David Arquette.
And when the 'Kiss Me' camera zeroed in on the father-daughter duo, David planted a kiss on his 2-year-old daughter to the cheering 'awwws' of the crowd before plopping her back onto his lap.
•
Britney Spears,
making a quick appearance at Guy's in West Hollywood for the bar's Kid's Cotton Club jazz night, hosted by former
That '70s Show
star
Danny Masterson.
Also making the scene:
John Legend,
who despite prodding from friends, declined to hit the karaoke stage.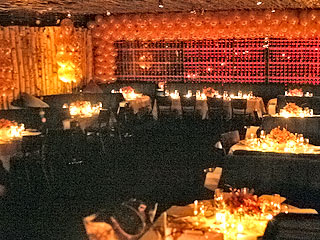 • Meanwhile, in New York City,
Kevin Federline
and an entourage of six hit the hot spot Butter. The fledgling rapper, who's been getting heat from fast-food workers over his
Nationwide insurance commercial,
made his way through the crowded dance floor to a table in the far back corner.
Dressed
in a white button-down shirt with jeans and sporting diamond earrings, Federline chatted with friends and texted on his phone. When a medley of Jay-Z songs started playing, he pumped his fist in the air. Also hanging out:
Axl Rose
and
Jamie-Lynn Sigler,
who sat at boyfriend (and Butter co-owner) Scott Sartiano's table.
• By TIFFANY HOPKINS, MARY MARGARET and BRENDA RODRIGUEZ