Sienna Miller went through the wringer – very publicly – in 2005 when her then-fiancé Jude Law admitted he'd
had an affair
– but she says she's learned from the experience.
"What makes me sad [is] that there was a loss of innocence on my part," the
Factory Girl
star, 25, tells
Life
in its new issue. "I was blinded by being a romantic person. I sort of feel like, 'What if I never love that vulnerably and that openly again?' But I feel like I'm really strong. I feel like I grew up."
She can also keep the whole thing in perspective. "People have made such a huge deal of it," she says. "But every single woman I know has experienced the same thing – just not publicly. People would say 'Poor her.' But it wasn't the first time it's happened to me – and it won't be the last, I'm sure. Human nature is such that monogamy is a really hard thing to achieve."
Still, she is looking forward to getting married and having kids. "I can't wait," she says. "In a world where you're encouraged to have your universe revolve around yourself, suddenly it doesn't. I know I want that because I have way too much love to give. If I have a child, it can all go there. Life, I think, will suddenly make sense."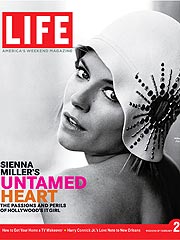 When it comes to potential husbands, she's been linked recently to actor Josh Hartnett – although she
tells PEOPLE
, "He's a friend. A male friend."
Future suitors can take note: Miller's idea of a perfect date, she tells
Life,
is "a little restaurant where you don't order, the chef just brings out whatever they've got. Then maybe go see some music. Or go dancing. I've yet to have it, so I guess I'll let you know."