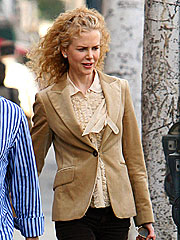 •
Nicole Kidman,
strolling through Beverly Hills. The actress stopped into an office building before emerging with her bodyguard and driving off in her car.
•
Justin Timberlake,
taking over the owner's table at New York City club PM after his concert at Madison Square Garden, where he
reunited with Andy Samberg
to perform their infamous
Saturday Night Live
song "D--- in a Box." The singer – who celebrated at a Fashion Week party for celebrity stylist Phillip Bloch – came in with 20 friends and family, drank only water and danced to some of the songs guest deejay
Nick Cannon
played. Also making the scene:
Diddy, Jamie-Lynn Sigler, Kelly Rowland
and
Cuba Gooding Jr.
• A
brunette
Jessica Simpson,
playing photographer at L.A.'s Hyde Lounge during a night of partying with sister
Ashlee, Eva Longoria
and hairstylist pal
Ken Paves.
"They were having a ball," an onlooker tells us about the singer, who was clad head-to-toe in black. "Jessica was snapping pictures of everyone with her digital camera." Earlier in the evening, Simpson and Paves had dinner with friends at Beverly Hills restaurant Mr. Chow.
•
Shakira,
lunching on grilled Hawaiian prawns on a frisee lettuce salad at Italian eatery Il Cielo in Beverly Hills.
•
Leonardo DiCaprio,
hanging out with pal
Kevin Connelly
at Hollywood lounge
Les Deux.
It was a star-studded night at the Euro-style hot spot. A low-key
Ryan Phillippe
talked to a male friend,
Prince
spent the evening holed up in the private VIP area,
Cee-Lo
from
Grammy-nominated group Gnarls Barkley
held court as revelers showered him with compliments, while
Scarlett Johansson
chatted with girlfriends at
Wilmer Valderrama
's table nestled behind the deejay booth. "Scarlett was just really mellow," says an observer. "There wasn't anything romantic or whatever going on between her and Wilmer."
• By KC BAKER, KIMBERLY LANSING and MARY MARGARET
See Wednesday's Caught in the Act >