Caught in the Act: Super Bowl Edition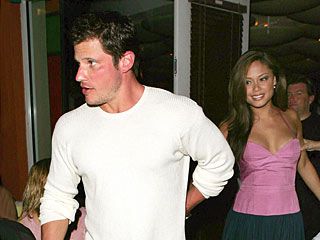 •
Nick Lachey
and
Vanessa Minnillo,
dining at China Grill Saturday evening before moving on to South Beach's hip lounge Mokai for the CAA Sports private function. With pal
Matt Leinart
in their entourage, the guys sipped beers and chatted while Minnillo chatted with her girlfriends. Other revelers included
Super Bowl frolickers
Tom Cruise
and
Katie Holmes, Scarlett Johansson, Alec Baldwin,
Heroes
star
Milo Ventimiglia, Fergie
and
Josh Duhamel,
Yankees star
Alex Rodriguez
and his wife,
John Legend
and
Gloria Estefan.
Though they didn't have any interaction, Lachey's ex father-in-law
Joe Simpson
also was on hand. Lachey and Minnillo stayed until after 2 a.m., leaving hand-in-hand with six other pals.
•
Jeremy Piven,
dropping into
Playboy
's Eighth Annual Super Saturday Night party at the American Airlines Arena in downtown Miami. "It's all about the game," the
Entourage
star told us as he stood among the open bars and dozens of Playboy bunnies in white lingerie. "That's why I'm here. It's all about the Chicago Bears. I'm from Chicago." Also showing team spirit:
Jermaine Dupri
and
Taye Diggs.
•
Ludacris,
getting into the casino-themed swing of things at
Maxim
magazine's Super Bowl party at the Sagamore Hotel's Social Miami club on Friday night. The swanky hotel was transformed into the Hotel de Maxim, where guests downed Absolut cocktails and played with fake money at the Borgata Casino. Though many celebs – including
Nick Lachey
and
Vanessa Minnillo
– stayed holed up in the VIP area,
David Spade
and
Ryan Cabrera
mingled in the crowd.
•
Mark Wahlberg,
hosting his own private party at INK Boutique Nightclub in South Beach on Friday. "Kanye West is here, and I saw Pharrell out walking today," Tampa Bay Buccaneers quarterback
Chris Simms
told us. "But I'm most excited to meet Mark Wahlberg. Extremely excited. He's pretty big-time between (producing)
Entourage
and (starring in)
The Departed
. He's extremely hot right now." And the host was extremely flattered. "These guys want to meet me?" said Wahlberg, whose bash was benefiting his Youth Foundation. "That's pretty cool. All I ever wanted to do was be a professional athlete, so to get that kind of love is very nice."
•
Jenny McCarthy, Carmen Electra
and
Kelly Monaco,
hanging out with a group of 15 friends in a private skybox at the Snow Queen Vodka 4th Annual Leather and Lace party at Chakra Lounge Friday night. During the festivities, McCarthy stopped a photo mid-pose to answer a text message from
boyfriend Jim Carrey.
•
Venus Williams,
bragging about sister Serena's Australian Open win at the exclusive Bamboo Lounge at the ESPN Block Party Friday. "A lot of people thought she was going to lose, but she won," she told us. As for the Super Bowl in Miami, "I'm a South Florida girl, I'm loving it here," she said.
Alyssa Milano
showed up for the fete after flying in from L.A. The actress gushed about Indianapolis Colts quarterback – and Super Bowl MVP –
Peyton Manning
("I met him once and he was a very nice guy," she told us) and chatted about her new women's baseball clothing line, which is set to be released on baseball's opening day. "It bridges the gap between the game and the after-party," she said.
•
Kevin Federline,
being surrounded by a horde of women at the
Penthouse
party at Mansion on Saturday night. It was a repeat visit for the rapper, who'd hung out there with producer
Scott Storch
the night before. Also checking out
Snoop Dogg
's performance at the
Penthouse
bash:
Paris
and
Nicky Hilton,
along with her beau
David Katzenberg.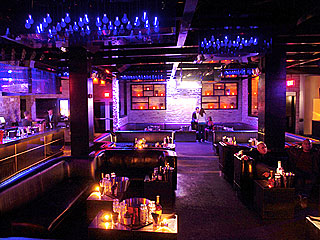 Seth Browarnik / Wireimage
•
Kid Rock,
partying at Mokai and then hitting up the Red Room at Shore Club's Skybar on Friday. He hung out with rapper
Lil Jon
until 4 a.m. and then moved over to Rok Bar with a blonde female friend.
• By KRISTIN HARMEL, CARLOS MILLER and JON WARECH