• "I want to tell you everything, but I have to sew my lips together."
–
Jessica Simpson,
to
Elle,
referring to her relationship
with John Mayer, because talking about her love life in the past "hurt" her
• "I have not found balance in my life yet."
–
Ryan Phillippe
on going through a
divorce
from Reese Witherspoon, to TV's
Extra
• "Sometimes we'll sing really corny duets together when a couple of our friends are over. He does 'Total Eclipse of the Heart,' which is amazing. You've never seen anything like it. He gets into it."
–
Fergie,
on how she and boyfriend Josh Duhamel
do quirky romantic things
like couple's karaoke, to PEOPLE
• "It's awesome."
–
Britney Spears,
on how it feels
to be single
• "Kiss my fat a--."
–
Tyra Banks,
on her talk show,
responding to critics
who made fun of the former supermodel's weight
• "I am very grateful. Tom makes me feel like the most beautiful woman in the world and has since the day I met him. I love being with him. I love calling him husband."
–
Katie Holmes
on the
joys of being married
to Tom Cruise, to
Harpers Bazaar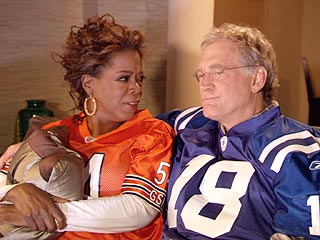 • "Honey, don't talk with your mouth full."
–
Oprah Winfrey,
responding to David Letterman's declaration that the pair were "in love," in a Super Bowl commercial for the
Late Show
• "I'm extremely vain – I like wearing cute clothes."
–
Gwen Stefani,
on her motivation for getting back into shape quickly after giving birth to son Kingston, to British Elle