James Blunt may sound mellow, but don't be fooled.
"Everyone thinks I'm this quiet singer-songwriter who stays at home every night. I've never been that person," the Grammy-nominated "You're Beautiful" singer, 32, tells
Life
in its upcoming issue.
In truth, he says, "I'm a big partyer."
Then again, his partying can be productive. "I drink a lot. I do," he says. "And I go to a quiet place and start writing. I'm not an observer, [songs come from] something I've experienced or felt. The last two years will have a place on the next record."
Those two years cover the blossoming of Blunt's relationship with model Petra Nemcova, whom he's been seeing since May 2005. (Despite rumors of strife late last year, in November Nemcova, 27,
assured PEOPLE
that she and Blunt were still "very much in love.")
And from the sound of it, he may want to take things a step further.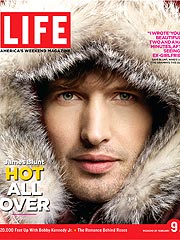 "I have friends who are married with children, who say, 'Gosh, haven't you done well,' " he tells
Life
. "And I'm thinking, No, it's you who has done well ... Who knows? Maybe I'll try my luck."
He's been lucky before. Case already in point: "You're Beautiful," which is up for five Grammys. "I wrote it in two and a half minutes," he says. "I saw an ex-girlfriend on the tube with a new boyfriend and lived a lifetime in those minutes."