The crowd went wild at Justin Timberlake's New York City concert on Wednesday – especially when the singer reunited with Andy Samberg for their infamous
Saturday Night Live
song.
Though Timberlake kicked off a raucous set at 9 p.m. that had audience members including Donald and Melania Trump on their feet, the real fun started at 11:20, when an announcer appeared to introduce "a new band" that had "the most watched video on YouTube." He ended with, "Can [this concert] get any better than this? Hell yes it can!"
Then Samberg and Timberlake took the stage – in their Color Me Badd-style costumes and facial hair from the
SNL
sketch and, of course, presents attached below the belt. To wild cheering they sang "D--- in a Box," changing the holiday lyrics from "Christmas ... Hannukkah ... Kwanzaa" to "Valentine's Day ... Flag Day ... Kwanzaa."
After the song, Timberlake came back onstage in a casual t-shirt, holding a mug of tea. "I'm sorry if I offended some of you, but I could not resist," he said – adding with a grin, "Watch out for the new album, late 2007!"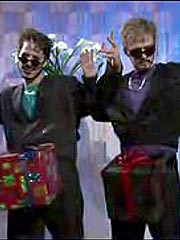 Then he got serious. "For a guy from podunk Tennessee, to get to live this dream out – [there] is probably one in a billion chance this happens and I'm sitting here right now," he said.
"I just want each and every one of you to know how grateful I am and how much I love you for coming out tonight." He finished up with "(Another Song) All Over Again" before taking a bow with his dancers and background singers to the Verve's "Bittersweet Symphony."