• "She's a lovely woman and I'm glad to be with her."
–
John Mayer,
responding in Japanese about
rumored girlfriend
Jessica Simpson, to a befuddled Ryan Seacrest on the Grammys red carpet. (Mayer's cryptic quote was later translated by E!)
• "We have a lot of friends in common, and Justin's a sweetheart, and it's always good to see him, but there's a lot of speculation and I try not to read that stuff. I think when two people are single and are seen together, it's immediately like a crazy feeding frenzy."
–
Scarlett Johansson,
also addressing rumors regarding the status of
her
relationship with Justin Timberlake, to E!'s Giuliana DePandi
• "I, for the first time in my life, am speechless."
–
Dixie Chicks
lead singer
Natalie Maines,
accepting the Grammy for song of the year for "Not Ready to Make Nice"
• "It's a story for the books. It's a story that will be written about and talked about. I imagine a major motion picture about it."
–
Larry King,
on the roller-coaster life and untimely death of Anna Nicole Smith
• "I wish that would happen again."
– 17-year-old
Harry Potter
star
Daniel Radcliffe,
on how a fan once surprised him at age 11
wearing only a towel,
to
The Observer
• "Thank you, dogs and bitches all!"
–
Helen Mirren,
giving a shout-out
to the real Queen Elizabeth's favorite four-legged friends – her Corgis – upon accepting a BAFTA for her role in
The Queen
• "As for the treatment Olivier has received of late, I can only reiterate that he simply does not deserve the kind of harassment or vitriol to which he has been subjected."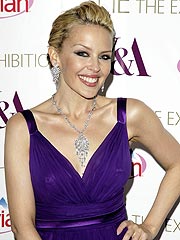 –
Kylie Minogue,
defending ex-boyfriend
Oliver Martinez amidst rumors of infidelity, on her Web site
• "I just want to come clean, I actually voted on myself."
– Notorious sore loser
Kanye West,
confessing to rapper friend Common on the Grammys stage about how he voted for last year's awards show
• "You know what? I was happy. I think everybody else was happy. We're tired of you crying about not winning."
–
Common