• An animated
Drew Barrymore,
looking like she was about to take flight while waiting at Los Angeles International Airport. The actress and
pal Cameron Diaz
were reportedly on their way to Hawaii to celebrate Barrymore's 32nd birthday (which is on Feb. 22).
•
Lindsay Lohan,
laughing it up with pals at West Hollywood lounge Winston's. The actress stuck to drinking her beverage of choice: water.
•
Jamie Foxx,
holding court at the head of the table while having lunch with friends at The Ivy in Los Angeles. The
Dreamgirls
star – who was dressed in a stark white button-down shirt – wasn't the most jovial companion: He wore his sunglasses and sat with his arms crossed. After having a salad and sharing some dishes, he drove off in his black Hummer. Also at The Ivy: tennis star
Maria Sharapova,
whose lunch of grilled shrimp and lobster ravioli in a cream sauce was interrupted by fans at the next table who were snapping pictures of her.
•
Winona Ryder,
trying to charge some purchases at Barneys New York in Beverly Hills – but having her credit card declined. The embarrassed actress explained to the sales associate that her new New York City address could be the reason why her card wasn't working.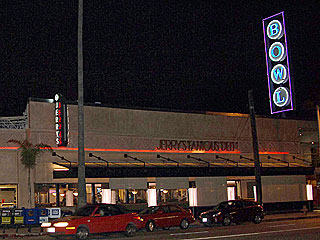 •
Mark Wahlberg,
blowing off some-pre Oscars steam at Studio City, Calif., bowling alley Pinz. His lane partner?
Napoleon Dynamite
star
Jon Heder,
though the true star of the game was the
Best Supporting Actor nominee
himself, who rolled strike after strike.
• By JENNIFER GARCIA
Wednesday's Caught in the Act! >