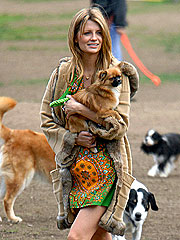 •
Mischa Barton,
playing with her Pomeranian-Shih Tzu mix pup Ziggy at an L.A. dog park. Later, the
newly single
actress checked out a comedy show with friends at The Laugh Factory in West Hollywood and also headed over to Winston's lounge, where she danced to UB40's "Cherry Oh Baby" and "Betcha She Don't Love You" by 80s disco queen Evelyn "Champagne" King.
•
Jennifer Aniston,
dining with pals
Courteney Cox
and
David Arquette
at Il Sole in West Hollywood. After being greeted by the owner, the chef and other staff, the trio enjoyed their meal of sashimi-grade ahi tuna seared with herbs along with artichoke and arugula salad on the patio – where Aniston smoked and Cox checked her Treo-like device.
•
Best Supporting Actor Oscar nominee
Djimon Hounsou,
waiting about 30 minutes for a table at Beverly Hills eatery Mr. Chow. (Hey, who says getting a nod from the Academy guarantees you a seat?) But the
Blood Diamond
star made the most of his time and even posed for a photo with a fan. The actor recently got the rumor mill churning when he shared a
friendly night out
at L.A.'s Hyde Lounge with
Cameron Diaz.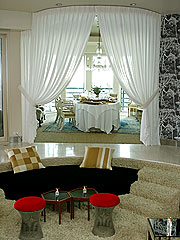 •
Lindsay Lohan,
"clowning around" with pal
Steve-O
at Teddy's at the Hollywood Roosevelt Hotel. "She was having a fun time, goofing off with him," says a fellow reveler. Also making the scene:
Kirsten Dunst
and
Drew Barrymore ex
Fabrizio Moretti,
who "sat really close together, faces touching, hands holding, whispering all night," says a source.
•
Demi Moore
and
Ashton Kutcher,
walking in hand-in-hand to L.A.'s Soho House outpost, a private space set up for Oscars week (it's a West Coast version of New York City's members-only club). The couple enjoyed a drink before settling down to have dinner with friend
Penélope Cruz
and a group of executives in the venue's main dining room. (The trio then attended the GM Ten
fashion show
.)
Drew Barrymore
ate at a table nearby while
Kylie Minogue ex
Olivier Martinez
sat with
Rosario Dawson
and a group of pals.
Jude Law
arrived for a late dinner at 9:30 p.m.
• By CECILIA DELAPAZ, REBECCA GROSS, LISA INGRASSIA and BRENDA RODRIGUEZ
Caught in the Act: Las Vegas Edition! >