•
Denise Richards,
sharing a day of mother-daughter bonding in Malibu. The actress – who had daughters Lola, 21 months, and Sam, 3, scooped up in her arms, one of her
favorite holding patterns
– frolicked with her girls at a local playground.
•
Ashley Olsen,
showing off her sexy black boots for pal
Megan Mullally
at the Chateau Marmont hotel in West Hollywood. Olsen arrived with a group of friends and proceeded to Mullally's table on the patio, where she put her foot up and rolled up her jeans as the former
Will & Grace
star squealed with delight.
•
Jeremy Piven,
shopping for magazines with a pal at a Borders bookstore in Hollywood. And what was Ari reading? The
Entourage
actor picked up
Rolling Stone
and
Details.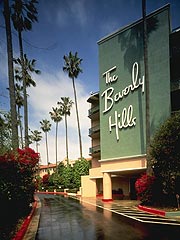 •
Diana Ross,
checking out a pair of black leggings at West Hollywood boutique Maxfield. Perhaps the singer was searching for an on-camera outfit: The Supreme diva will
appear
on
American Idol
on March 13 as a mentor to the Top 12 contestants.
•
Reese Witherspoon,
playfully reenacting her famous
Legally Blonde
pose with a fellow diner's pet Chihuahua while lunching with a pal at the Polo Lounge in The Beverly Hills Hotel. Witherspoon, who ate a salad, greeted the pooch after she finished her meal.
• By LYCIA NAFF
Thursday's Caught in the Act! >