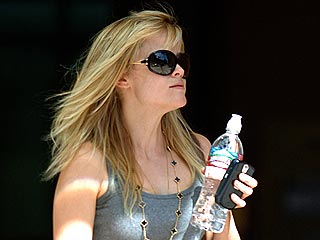 •
Reese Witherspoon,
multitasking during a day out in Beverly Hills. The tank-top-sporting actress juggled a water bottle and her BlackBerry as she ran errands.
•
Eva Longoria,
giggling with a female friend over a dinner of fresh eel sashimi at West Hollywood restaurant Koi.
•
Justin Timberlake,
partying with
Timbaland, Usher
and
Missy Elliott
at Ghostbar in Dallas following his sold-out concert. The "SexyBack" singer worked the deejay booth and even did a little beat-boxing.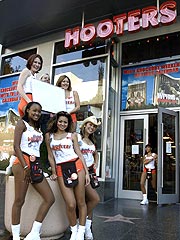 •
Whitney Houston
and
Bobby Brown,
having a family meal with daughter
Bobbi Kristina
at Mr. Chow in Beverly Hills. The trio ate shrimp fried rice and white prawns. "Whitney and Bobby were focused on their daughter," a diner told us. "(They) looked very comfortable and relaxed with each other."
•
Bono,
signing a guitar for a fan in the foyer of a Hooters restaurant in Hollywood. The U2 frontman, who wore one of his Gap INSPI(RED) T-shirts, obliged the axe-toting admirer's request and then was seated with two pals. A round of wings for everyone!
• By CARRIE BELL and BRENDA RODRIGUEZ