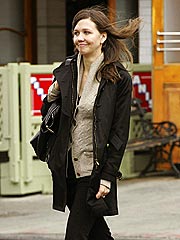 •
Maggie Gyllenhaal,
strolling around New York City's West Village after lunching at trendy Meatpacking District eatery Pastis. The new mom was out solo: She left
5-month-old daughter Ramona
at home.
•
Justin Timberlake,
checking out artist Rudolf Stingel's exhibit at Chicago's Museum of Contemporary Art with a female companion. The singer, in town for two performances, and his friend had lunch at the adjoining restaurant Puck's. He ate roasted pumpkin soup and curried chicken salad on a croissant, while she feasted on the pumpkin soup and a cheeseburger. For dessert: Chocolate truffle cake for him, an apple tart for her.
•
Bruce Willis,
partying at a birthday bash for Pink Elephant club owner David Cabo at the New York City hot spot. The fete had a children's theme: Clowns blew up – what else? – pink-elephant balloon toys while guests wore party hats.
•
Orlando Bloom,
sitting outside with a group of friends at Hollywood lounge
Les Deux.
Bloom spent the evening chatting with his pals even while fellow clubgoers crowded around to get a glimpse of the actor. Also making the scene: a newly
single
DJ AM,
whose focus was entirely on spinning records,
Entourage
star
Kevin Connelly
and
Will.i.am
from the
Black Eyed Peas.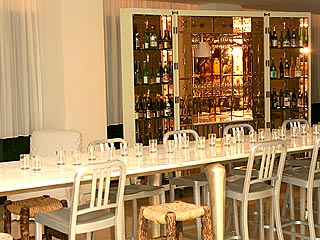 •
Eva Longoria,
celebrating two big occasions – her 32nd birthday and becoming the spokeswoman for Bebe Sport – at a party in her honor at the Skybar at L.A.'s Mondrian Hotel. The
Desperate Housewives
star toasted her March 15 b-day a day early with a
big cake.
"Tomorrow is the actual birthday," she told us. "I spent my birthday with Tony already so that was the romantic birthday. Now it's just fun." Longoria was joined by other celebrity guests, including
American Idol
star
Katharine McPhee, Hilary Duff
and
Dancing with the Stars
alum
Willa Ford.
• By SHIA KAPOS, AMY ELISA KEITH and LESLEY MESSER
Wednesday's Caught in the Act! >