Never ones to follow the crowd, the "happily unmarried" Gene Simmons and Shannon Tweed nevertheless have joined a growing trend – of couples who get plastic surgery together.
Gene Simmons Speaks!
Hear him talk about the surgery
"I'd thought about it before," Simmons, 57, the eel-tongued, kabuki-faced bassist from KISS, tells PEOPLE. "I was aware I had jowls."
"Like Jabba the Hutt!" teases Tweed, 50,
Playboy
's 1982 Playmate of the Year.
And though she was all for the surgery, "I didn't want him to look younger than me," she says. So in November, the couple, who have been together for 24 years and have two kids together, were ready for new faces.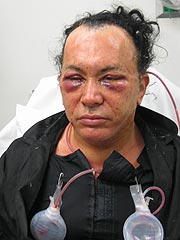 It's a growing trend among couples, but few are recording their procedures for posterity. In this case, nearly every pre-through-post-op moment was taped for the couple's A&E reality program,
Gene Simmons Family Jewels,
which begins its second season on March 25.
The show does take some creative license, making it appear that Tweed tricks Simmons into doing it: He acts surprised when he finds himself in the Beverly Hills offices of Dr. Frank Ryan – and hears that the procedures will run over $40,000 each. (Actually, Dr. Ryan hints that the surgery was gratis.)
Click here to see Simmons and Tweed, two weeks after their surgery!