Scarlett Johansson has dated Jared Leto and Josh Hartnett, but her heart belongs to a slightly older man: Her
Match Point
director Woody Allen.
"I'd sew the hems of his pants if he asked me to," the actress, 22, says in the April issue of
Vogue.
Allen, 71, in turn describes Johansson as "criminally sexy," telling the magazine: "While she is a much stronger actress in every way, there is a tiny bit of Marilyn Monroe in her zaftig humidity."
Though Johansson – whose new movie
The Nanny Diaries
opens April 20 – plays Justin Timberlake's love interest in his "What Goes Around" video, she again denies rumors that they were ever an item.
"Of course it's not true," Johansson tells interviewer Alessandra Stanley. "We had fun together, but it's not like the first time I've ever hung out with him."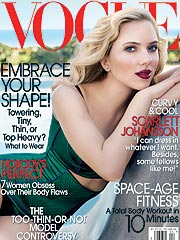 Speculating on how the rumors about them got started in the first place, Johansson says, "I think this happens because we're both single and in the spotlight, and obviously Justin's a very high-profile person."