• "My mom made me go to a Britney Spears concert when I was young. And I was like, 'No, I don't want to!' she was like, 'You're going to be a performer, you need to see other people.' "
–
Avril Lavigne,
on her early music role models, to
Jane
• "Under these blonde highlights I consider myself a pretty tough person. So don't cry for me, Argentina."
–
Elisabeth Hasselbeck,
on rumors that
she cries backstage
after she and Rosie O'Donnell argue on
The View,
to PEOPLE
•"[It] looks like the one god gave me so im happy not to have crazy lips and a crazy teensy unnatural little nose."
–
Courtney Love,
about her nose job, on her Web site
Moonwashedrose.com
• "It's nice to just be spending time with my friends and family and also not having to worry about, you know, calling in and doing the check-in. I'm not really good at that."
–
Rosario Dawson,
on the upside of being
single
since splitting with boyfriend Jason Lewis last year, to PEOPLE
• "Who cares?"
–
Paula Abdul,
when asked by fellow
American Idol
judge Randy, "Where's Simon?" at the Kids' Choice Awards
• "As a 38-year-old man, I decided, this is the right time to take on figure skating. You know ... it looks hard on TV? It's not. It's easy. It's soooo easy."
– Mr. Sarcasm
Will Ferrell,
on learning how to skate for his film
Blades of Glory,
to the
Late Show'
s David Letterman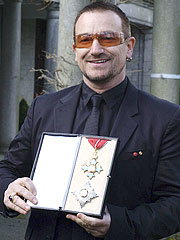 • "When I first got together with Len, I couldn't understand why it seemed like he was always trying to get into my side of the car. He was holding the door open for me! I don't know what you teach American men in school here, but you have to keep it up, because it's extremely charming."
–
Kate Beckinsale,
on the most surprising thing about being married to an American, to
Glamour
• "You have permission to call me anything you want – except sir, all right? Lord of lords, your demigodness, that'll do."
–
Bono,
upon
becoming a Knight of the British Empire
• "Undercover Brother's good at karate and all the rest of that, but the brother can't drive."
–
Eddie Griffin,
after
crashing a $1.5 million Ferrari
during a charity event, to the
Associated Press