Before swinging into the public consciousness as Spider-Man, Tobey Maguire had a tough time getting his footing in life.
Only 3 when his parents – who were 18 and 20 when he was born – split, the actor, 31, tells
Parade magazine
in this weekend's issue that he nevertheless considers himself "not a victim. ... They were just babies, doing whatever the heck they thought they should be doing."
Bounced from one family member to the next as he was growing up, "I always felt that there were people in my life who cared about me – that I was special to them. It's very complicated," he says.
"But the truth of the matter is I realized at a young age that I was responsible for myself. My feelings of love or security or happiness – they were all in my own hands. I had plenty of difficult, emotional and scary times as a kid, but I don't dwell on it."
Still, the new dad admits to aftereffects. "Growing up the way I did, I had a very serious ambition to make some money, to have some security and comfort in my life," says the star, whose
Spider-Man 3
opens May 4.
"When I first started being successful at this, financially speaking, I was very conservative with my money. That was definitely a product of where I came from. You know those Lotto winners who win big and then blow through all the money? That would never happen to me. ... I just never wanted to put myself in the position where my spending was so huge that I had to keep making movie after movie."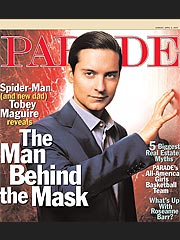 Granted, he also admits, "My mentality about that has changed a bit. [But] I feel like you could drop me anywhere in the world, anonymously, and I'd figure out how to survive. If you stripped away everything I've got – the money, the fame, the possessions, everything – I know that I'd find a way to get along, because, basically, that's what I've had to do all my life."
And he's ready to pass on those values to Ruby, his 5-month-old daughter with fiancée Jennifer Meyer. "I'm at that stage where I have to start thinking about where I want Ruby to grow up and go to school," he says. "And even though L.A. is pretty laid-back, maybe it would be a good idea to try a different, less ambitious kind of atmosphere."