Mandy Moore is her own harshest critic.
Asked in
Elle
magazine's May "Green Issue" if she considers herself a better singer or actress, she says: "I'm mediocre at both. I'm not trying to come across as self-deprecating. I'm just being honest."
Her first album in four years,
Wild Hope
, hits stores in June. "I don't want any expectations," the 23-year-old says. "I just want people to know that I still sing. Most people don't realize that, or else they hate my music – rightfully so."
She's blunt when looking back on her image as a '90s-era teen pop star. "I'm sure I was viewed as the young, untalented one," she says. "Britney Spears and Christina Aguilera had some great pop music. And then there was Jessica Simpson. And then there was me. And that's fine."
Moore has even called her previous albums "trite, blah pop music" – but she chalks it up to the foolishness of youth. "I'm sure other people look back at things they did when they were 15 and go, 'Oh God.' That's how I feel about it. It's embarrassing."
The songs on the new album, however, are raw and deeply personal – and many listeners are bound to assume some of the lyrics are about her ex-boyfriend, Zach Braff. (Moore has said her split last year with the
Scrubs
star contributed to an ongoing
bout with depression
.)
But when asked about the relationship, she's diplomatic. "Out of respect to Zach, who I still consider a friend and care about and support, I have nothing to say about him," she says. "It just didn't work out."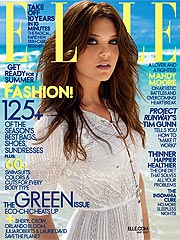 One thing Moore is comfortable talking about? Her body image. "Sometimes I feel fine. Sometimes I don't feel so great," she says. "I'm a regular person. I'm not that thin. I'm okay with representing a different type that the normal Hollywood beauty ideal."
She says she was once asked to lose weight for a role, an experience she calls "mortifying."
"It's hard to have someone come up and go, 'You should lose a few pounds.' And they don't say it delicately. How can you?"