• "I focus on a guy if he's a boyfriend, but I don't focus on
finding
a boyfriend. They're never around when you want them."
–
Scarlett Johansson,
who was recently spotted out with Ryan Reynolds
, to
Seventeen
• "I have a butt, I have boobs and I have a woman's curves; there is no way I'd see them go to (size) zero."
–
Jennifer Lopez,
on why she has zero hope (or desire) of ever
being a size zero
, to the British edition of
Elle
  • "I'm da bomb now, babe!"
–
Fantasia Barrino,
on feeling "brand new" after overcoming a challenging past, to the
New York Post
  • "Maybe [she] comes from beyond the grave, makes him a zombie and brings him to the netherworld."
–
Sopranos
star
Michael Imperioli,
joking that his character could be murdered by his dead wife during the HBO show's final season, to the Associated Press
• "We're going through the [divorce] process, but we are not friends."
–
Dita Von Teese,
on
her feelings for estranged husband
Marilyn Manson,
to PEOPLE
•"I read the book, and [Professor Dolores] Umbridge is described as a short, ugly, toadlike woman. I thought, 'Oh, thanks very much.'"
–
Imelda Staunton,
on her initial reaction to her character in the upcoming
Harry Potter and the Order of the Phoenix,
to
Newsweek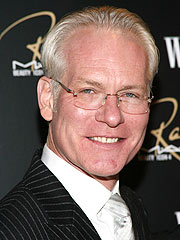 Sylvain Gaboury / FilmMagic
• "The only time that I balked and almost had to be resuscitated was when someone told me that they loved [designer] Vincent [Libretti's] work. When I recovered, I had to persuade myself that they were confusing his work with that of someone else!"
–
Project Runway
mentor
Tim Gunn,
on crazy experiences during his show's season 4 auditions, to
Entertainment Weekly
• "I never really wanted to get out of acting, but now I'm a professional racecar driver. Seriously, ask any actor if they'd rather be a professional racecar driver or an actor."
–
Frankie Muniz,
on
his new "profession,"
to PEOPLE
• "I'm so fascinated by breasts because my mother didn't have them either. If I had them, I'd run up and down a flight of stairs!"
–
Kate Beckinsale,
on
her desire for more ample endowment
, to
Glamour