Tobey Maguire may play a crime-fighting web-slinger in the
Spider-Man
movies, but in real life his greatest thrill comes from being a dad.
"When she smiles, it's the most fantastic thing ever," Maguire, 31, tells
Men's Journal
of Ruby Sweetheart, the daughter he and fiancée Jennifer Meyer
welcomed in November
.
"But it's not like I didn't expect that. I expected to fall completely in love with my child," he says.
Spider-Man 3
opens May 4, but Maguire says he isn't sure if he'll play the superhero a fourth time. "I might do another
Spider-Man
movie – I don't know," he tells the magazine in its May issue.
"I appreciate movies from a standpoint of entertainment and distraction, and I also love when people make movies that help raise awareness. I don't really have a lot of formed ideas. It's more just thoughts."
The actor recently
told Parade
he wasn't sure about staying in Los Angeles: "I'm at that stage where I have to start thinking about where I want Ruby to grow up and go to school. And even though L.A. is pretty laid-back, maybe it would be a good idea to try a different, less ambitious kind of atmosphere."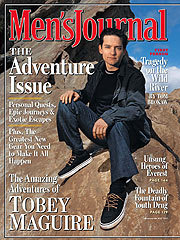 He also tells
Men's Journal
he began attending Alcoholics Anonymous meetings at age 19. "I have an addictive nature," he says, "an obsessive-compulsive nature – well, I don't know that's what it is clinically. But I go to addictive extremes, and before I got sober, that became routine."