When we invited readers to send in questions for Halle Berry, many of you asked about her beauty secrets. But Berry, 40, who stars in the new thriller
Perfect Stranger,
is the first to admit her physical flaws: "I apparently have a pooch in my belly!" she says. "Every time I have a burger someone says I'm pregnant." For the record, she says she isn't – though the twice-divorced actress has been happily dating model Gabriel Aubry, 31, for more than a year. PEOPLE's Jennifer Garcia took your questions to the source.
Do you plan on having children someday?
–
Kim Silva, Fall River, Mass.
I would love to start a family, and I hope that a baby finds me someday soon. That would make me really happy!
More Talk with
Your Favorite Stars
Do you prefer wearing your hair long or short? Are you ever going to go back to the short do?
–
Ebony Milton, San Diego
I prefer that I get to change it up. Being a red-blooded woman, I love that I get to change it every hour if I want to. I have some of the best hairdressers in the business, who create new styles for me. I will go back to short, yes, because that's really organically who I am. [For] one of my next movie roles [in the romantic comedy
Nappily Ever After
] I am going to have to shave my hair, so I'll have short hair again very soon.
What was it like to work with Bruce Willis in your new movie?
–
Autumn Fowler, Diana, Texas
Bruce is a wildly talented actor. He likes to improv, and it was a joy to sit back and watch and learn.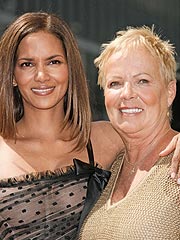 What made you decide to go public on such a personal thing as attempting suicide?
–
Kali Rowley, Salt Lake City
I want it to be clear that it's nothing new – this is a story that is sort of 10 years old and unfortunately another magazine felt the need to regurgitate it. [Berry has said she briefly considered killing herself after her marriage to David Justice ended in 1996.
Parade,
which recently quoted Berry about the incident, says she discussed it in her interview.] In my opinion, if having it come up again can help one more person understand the horror of suicide, then I guess it's all worth it.
What was your biggest fear growing up?
–
Nicole Newcomb, Harrisburg, Pa.
That I would be without my mother. I was from a single-parent family, and I always had the fear that something would happen to her, that she wouldn't come home from work one day. That is still one of my biggest fears.
More Answers from Halle Berry >