Salma Hayek is expecting her first child at age 40 – and she says women shouldn't be in a hurry to have kids before they're ready.
"Motherhood is not for everyone," the
Lonely Hearts
star tells
Marie Claire
in its May issue. "It is for me, but there's no reason women should feel rushed to have a child."
Hayek, who spoke to the magazine before announcing her
pregnancy and engagement
to businessman François-Henri Pinault, continues: "Society thinks if you don't have children, you've failed as a woman, even if you are CEO of a company.
"You've got to be beautiful, smart, skinny, tall, rich, successful at your job, married to the right guy – and have genius children. And by the way, you also have to be a nun!"
Even by those impossible standards, Hayek is doing pretty well: On top of all her other achievements, she's the executive producer of one of the year's biggest hits, ABC's
Ugly Betty.
All it took was a lot of persistence. "Everybody thinks I've got a new job, but I've been trying to get shows on the air for
years,
" she says. "The secret is never giving up."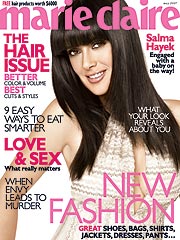 She also admits that the pressure to appear physically perfect isn't easy on her. "The stress is sensational," she says. "But then, you have to keep everything in perspective. It's a dress, hair, makeup – c'mon, let's go! We have to stop this obsession that starts when we're teenagers: 'Am I pretty enough?' "
It helps that she's willing to challenge people's ideas about women – especially Latin women. "I started out in Hollywood at the same time as Jennifer Lopez," she says. "Before us, Latinas only had roles that were part of the backdrop, as the maid or the prostitute. We changed that. Of course, you're always looking for those Meryl Streep parts, but I am grateful for the things I did."