• "This is just an Internet-Rogaine accident gone terribly, terribly wrong."
–
Bruce Willis,
after David Letterman accused him of looking like "that Sanjaya guy" when he appeared on
The Late Show
in a faux-hawk wig
• "Not since the episode of
Saved by the Bell,
where Tiffani-Amber Thiessen disguised herself as a boy in order to join the school's basketball team have I seen such an impressive mustache."
–
Jimmy Kimmel,
referring to
American Idol'
s Sanjaya Malakar's new dusting of facial hair
• "They should be left alone now without reams of stuff being written that I can assure you, from my experience of royal stories, most of which will be complete nonsense."
– British Prime Minister
Tony Blair,
speaking out about Prince William's
breakup
with longtime girlfriend Kate Middleton, to the BBC
• "For a while I've had the feeling that my life won't be complete if I don't adopt."
–
Penelope Cruz,
on her hopes of starting
a family,
to the Spanish edition of
Marie Claire
• "We have about 20 days left [until the season ends,] not that I'm counting."
–
T.R. Knight,
on being
ready to take a break
from
Grey's Anatomy
after a tough season, to
Access Hollywood
• "If there's one thing about our relationship, there are no surprises."
–
David Arquette,
on what makes his nearly eight-year
marriage
to Courteney Cox work, to PEOPLE
• "I'm a fake intellectual. I'm not that well read. Which I'm insecure about since I've gotten the [intellectual] niche."
–
Adam Brody,
on being different from his
O.C.
persona, to
Time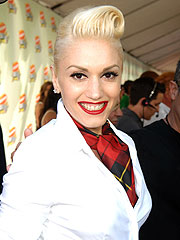 • "I've always been on a diet, ever since I was in the sixth grade. It's an ongoing battle and it's a nightmare."
–
Gwen Stefani,
proving
she's just like every other woman when it comes to weight issues, to
Harper's Bazaar
• "I hate to be the one who told you this, but: I told you so."
–
Larry Birkhead,
on learning the
DNA test results
that he's the father of Anna Nicole Smith's 7-month-old daughter Dannielynn, at a press conference in the Bahamas
• "I'm giving her this damn shower. I don't have to get her a present as well, do I?"
–
Felicity Huffman,
on what she planned to give fellow Housewife Eva Longoria as a
bridal shower gift
, to PEOPLE