Omigod! Broadway vet Laura Bell Bundy, 26 (
Hairspray, Wicked
), slips into Reese Witherspoon's pink wardrobe to play the perky Harvard Law student in a new musical based on the 2001 film. PEOPLE has an exclusive clip from the show – plus we talked to Bundy about her new role.
ON HER CHILDHOOD DREAMS
All I ever wanted was to originate a role on Broadway. An Academy Award? Whatever! I would rather have a Tony.
ON FOLLOWING REESE
It's a lot to live up to, but I've tried to put as much of myself in Elle. We'd love to do the show for her!
ON BECOMING ELLE
I play a happy problem solver and it's rubbing off on me. Things roll off my shoulders now.
ON ACCESSORIZING
They had shoes made for me, but they looked awful. Elle would
not
wear clunky shoes! She would wear Prada. So we got Pradas.
ON MOONLIGHTING
I recorded a country album,
Longing for a Place Already Gone.
It's a throwback to Patsy Cline and Loretta Lynn with modern elements. I call it "y'allternative."
• By LIZA HAMM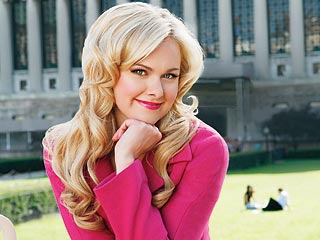 Paul Kolnik / Barlow Hartman