• "I'm sorry, as everyone who knows me is aware, for losing my temper with my child. I have been driven to the edge by parental alienation for many years now."
–
Alec Baldwin,
issuing a statement on his
Web site
after a tape was released in which he called his 11-year-old daughter Ireland a "rude little pig" on her voicemail
• "It's called
The Oprah Show,
okay?"
–
Oprah Winfrey,
to
Thank God You're Here
host David Alan Grier, after he expressed disbelief that the talk-show queen "never gets nervous"
• "She's still fat, she's still gay."
–
Rosie O'Donnell,
on how the tabloids cover her, on
The View
• "I didn't vote. But if I had voted, I absolutely would have voted for you. I would have voted for the chubby dude [Chris Sligh]. And then it was you."
–
Jack Black,
telling
American Idol
castoff Sanjaya that he was (sort of) his
silent supporter,
on
The Tonight Show
• "Right now I have two in diapers and three teething. That's plenty of children right this minute."
–
Sharon Stone,
on not
wanting more children,
to PEOPLE
• "All the clichés are true – it's indescribable and you just have to be there to understand it. You know, you don't really get it until you're there."
–
Tobey Maguire,
on being a
new dad
to 6-month-old daughter Ruby, to PEOPLE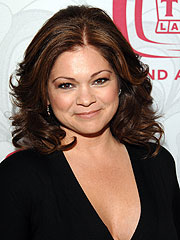 • "I assume if a diet company is calling me, I'm fat."
–
Valerie Bertinelli,
on the reason she became a Jenny Craig spokesperson, to Rachael Ray
• "NBC and
Law & Order
producer Dick Wolf are in negotiations to cut costs from the long-running series and its spinoffs to justify keeping the shows on the air another season. As a result, next season the show will be called
Law.
–
Seth Meyers,
on
Saturday Night Live'
s Weekend Update
• "Haylie and I are really good friends. But I'm declaring myself single."
–
Entourage
star
Kevin Connolly,
on his rumored relationship with Haylie Duff, to
Time Out New York