Kirsten Dunst has been
dating Razorlight frontman Johnny Borrell
– and apparently rock stars make better boyfriends that movie stars.
"I don't ever want to date another actor again," the
Spider-Man 3
star, 24, tells
Jane
magazine in its May issue.
"This quote is probably going to come back in my face, but I know someone who has a great saying: 'There are no actors, there are only actresses,' " she continues. "Sometimes creative people can be very dark and destructive."
Still, Dunst, who dated Jake Gyllenhaal off and on for nearly two years before they split last year, admits: "I'm only saying bad things. I do know a few actors who are good and sweet and adorable."
Dunst shares the
Jane
cover with her
Spider-Man 3
costar Bryce Dallas Howard, 26, who married actor Seth Gabel last June and
welcomed a son
in February.
"I wish I were in a Bryce stage," Dunst says. "I'd rather be with someone I love, at home making dinner, than be single, for sure."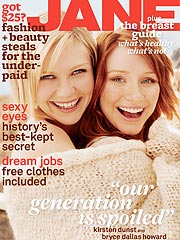 How does she know if a guy is boyfriend material? "For me, it's an intuitive thing," she says. "I have to be blown away or have a really good conversation and laugh with the person right away."
And she's optimistic that she'll be in a "Bryce stage" fairly soon: "Manny, who did our hair for
Spider-Man 3,
gives me advice and is soulful. He says I'm going to be pregnant within two years."