• "Rosie has the sexiest, juiciest breasts."
–
Tyra Banks,
telling Conan O'Brien that she gave
The View
host a surprising squeeze – which she once performed on
Katharine McPhee
• "That's showbiz, but it's not sad because I've loved it here and I love you guys and I'm not going away. I'm just not going to be here every day."
–
Rosie O'Donnell,
announcing
that she's leaving
The View
• "I figured that we're going to be lonely without you. So, Tim and I thought we should get busy and maybe make a little co-host."
–
Elisabeth Hasselbeck,
on
The View,
announcing she's expecting her second child,
less than a week after O'Donnell announced she would be leaving the program
• "I was kind of mildly disappointed that nobody went last week. I look forward to that point. Does that sound bad?"
–
Simon Cowell,
expressing his dismay that no contestant got booted off during the
Idol Gives Back
charity special, on
The Ellen DeGeneres Show
• "Yes, it sounds bad."
–
Ellen,
to Simon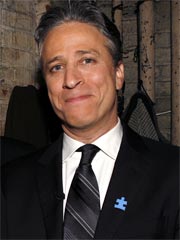 • "I hate sleeping alone."
–
Lindsay Lohan,
explaining why she
goes out all the time,
to
Nylon
magazine
• "It's nice to be able to just date, because I had never been on a date in my life."
–
Lance Bass,
on
being single,
to PEOPLE
• "I feel comedically sandwiched."
–
Adam Brody,
sitting between the host and funnyman Garry Shandling, on
Late Night with Conan O'Brien
• "You can still have Indian food though, right?"
–
Jon Stewart,
asking Richard Gere about the
controversy
sparked after he publicly kissed Bollywood star Shilpa Shetty in India