•
Kate Bosworth,
frolicking in the Hawaiian surf while vacationing with
boyfriend
James Rousseau and a group of girlfriends. The actress reportedly spent her afternoon running between the pool and the beach, all the while modeling a revealing black bikini.
•
Rosario Dawson,
serving clubgoers her mother's home-cooked lasagna at New York nightspot Home during the premiere party for her film
Descent.
At the club, Dawson's eco-friendly mother announced to the crowd that the plates were made of recycled materials. And earlier at the premiere, Dawson, one of PEOPLE's
Most Beautiful
stars, told us about her bodily insecurities, teasing: "I have the no hips. I'm the buttless wonder. ... But since I'm a tomboy, it's not so much of a problem."
•
Tori Spelling,
arriving for lunch at the Farm of Beverly Hills along with husband Dean McDermott and
1-month-old son
Liam. The family pulled up to the restaurant in a green Range Rover, and McDermott jumped out to secure a table while Spelling waited in the front seat playing with Liam, who was buckled in his car seat. The happy family then went into the restaurant to enjoy their lunch.
•
Jessica Simpson,
sipping martinis along with best pal
Ken Paves
and a handful of other friends at Los Feliz hotspot the Dresden Room. The group took in a lounge act by legendary jazz singers Marty and Elayne, clapping and giggling for them in between sets, according to an onlooker. The pop star was whispering to her friends while the band played. After the show, Simpson congratulated a female musician before making her way out of the lounge.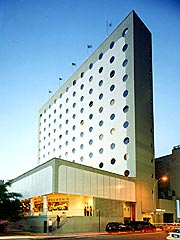 •
Gael Garcia Bernal,
arriving at New York's Maritime Hotel in the same black SUV as
Tim Robbins
to honor pal
Diego Luna,
whose documentary
Chávez
screened at the Tribeca Film Festival. Inside the party, Robbins and Bernal appeared to be BFFs, spending the evening in deep conversation on the red vinyl sofa in the back corner of the room. Meanwhile, first-time director Luna took laps around the room and greeted his fans. At the event, he told us, "I need so badly a tequila, and I need to hug all my friends that worked on the film." But he added: "It was an exciting night. You have no idea."
• By PAUL CHI, MARK DAGOSTINO, LESLEY MESSER, AMY ELISA KEITH and THAILAN PHAM
Monday's Couples Watch >