Playing Harry Osborn in the
Spider-Man
series lets James Franco see Tobey Maguire in a different role: dad to 6-month-old daughter Ruby.
"She's a very sweet baby," Franco, 29, told PEOPLE at Monday's New York City premiere of
Spider-Man 3
. "It's strange, because I've known Tobey about six or seven years, and to see him grow over those years, I'm really proud of him."
Franco continued, "He seems like he's an excellent dad. He's completely consumed with that child."
Rosemary Harris, who plays Spidey's Aunt May, agrees. "[Tobey] seems to be a natural," Harris, 76, told PEOPLE. "He's a kind, loving person." And Ruby, who was
born in November
, "seems to [be] traveling well. The baby's mother, [Maguire's fiancée] Jennifer Meyer, looks radiant."
The family has traveled together around the world to promote
Spider-Man 3
. "It's lovely having a baby with you on tour," Harris said. "It's easier at that age, [and] I think it's wonderful that they're bringing Ruby with them."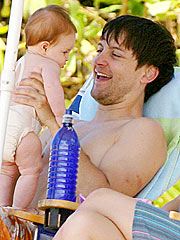 Starsurf / Splash News Online
In fact, Harris first met Ruby at an airport. "We've been at all these airports – Tokyo, Rome, Berlin, Paris, London – and I forget which one it was, but she was there all dimpled," she said. "She looks like Tobey. She's a happy little baby with her dimples."
Maguire, who recently said he
loves being a dad
, told PEOPLE he likes traveling with Ruby and Meyer: "You know, it's been great. We've been all over the world, and it's just been great to have my family with me."
•
Reporting by JEFFREY SLONIM