•
Keira Knightley
and her
recently shorn
boyfriend
Rupert Friend,
sharing a romantic stroll through central London. The hands-on pair were spotted giggling and enjoying the sunshine together.
•
Lindsay Lohan,
rocking out at West Hollywood lounge Winston's. The actress, in a short, striped dress, hung with her posse at table neighboring
Lance Bass.
Later in the evening, the former 'N Syncer met up with
Jamie Lynn Sigler,
who got a shoulder rub from Bass as she danced. When Lohan's deejay pal
Samantha Ronson
approached, all the celebs acknowledged each other, and the once-separate groups merged together.
•
Patrick Dempsey,
shopping for health food at VP Discount Health & Food Mart in Los Angeles. The
Grey's Anatomy
star – and
fitness buff
– sported jeans, a black coat and a backpack as he combed the aisles.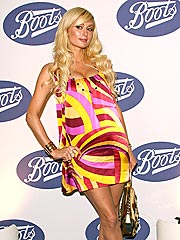 •
Chris Rock,
digging in – and having a serious conversation – with a friend at Beverly Hills eatery Mr. Chow. The comedian and his pal ate Beijing chicken and drank cocktails as they chatted.
•
Paris Hilton,
modeling a Paris Hilton couture dress during a party for the U.S. launch of the
BOOTS beauty brand
at the Tower Bar in Hollywood's Sunset Tower Hotel. The heiress told us why she picked the floral frock: "It just feels cute. We make this dress in a bunch of different colors and just thought it had a cool fit."
• By CYNTHIA WANG, JED DREBEN and JON WARECH
Wednesday's Caught in the Act >